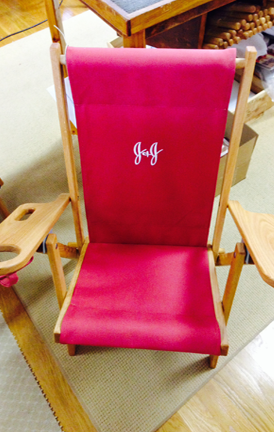 It isn't just appearance that we focus on. We are also at the forefront of creativity and strive to make our ultimate beach chairs stand out. This is the reason we came up with the idea of customization.
We offer you the benefit of having your name embroidered on our durable Nantucket beach chairs. Other kinds of personalization options include, Motifs, Name, Initials, Motif & Name, and any other custom embroidery design you have in mind.
Customizing your beach chairs make them a treasured heirloom that can be handed down from generation to generation. As for your kids, wouldn't they love to have something they get to call their own, with evidence.
If gifting, according to you, is something that the recipient would be able to use as well as cherish for long, then our customized beach chairs are a perfect option. Their sturdy and durable designs give years of enjoyment. Add the personalization and it is now a great item you can gift to your loved ones. Birthdays, Housewarming, Wedding, Anniversaries, Graduation – they will fit right in.
We value your investment and try to give you the best return of your money's worth. Based on the Nantucket Island, we are always there to assist you with your beach chair purchase. Shop local and enjoy our profound services.