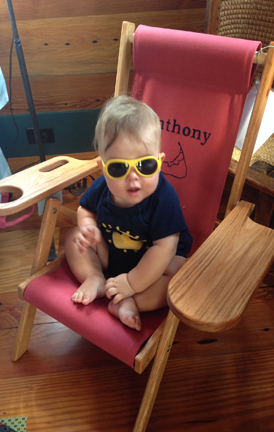 Here at Nantucket we give attention to details and take every design aspects into account when making a wooden beach chair. Our priority is comfort, travel-friendly and durability; so our customers get beach chairs that are versatile and lasts for decades.
From years of research and experience we have designed 3 state-of-the-art beach chairs that caters everybody's specific needs:
The 'High Tide'
Designed to cater people who get hard time getting out of beach chairs. The base sits close to the ground i.e. 13 inches with non reclining back set to the best sitting posture. Features extra wide armrest with a beverage holder.
The 'Original'
This is our classic model; an epitome of ultimate comfort. All made of solid wood frames with stainless steel hardware for additional durability. Each wood beach chairs are made from the finest natural material and are hand rubber with Teak oil that gives a natural golden color.
The Children's
This adorable line of beach chairs are designed for the younger ones below the age of 7. They are perfect for Christmas presents and family heirloom. This is a all weather product which is light and facilitates easy handling and storage.
Since the inception of the company we decided to manufacture only the best beach chairs that gives a better experience to our customers.
We offer 5 different color options and can be personalized with custom logo; silk screened or embroidered. We use cotton duck fabric that are durable and can take heavy weight. Each chair is Danish oil finished for hard-wearing look and additional weather resistance. For comfort we have added soft foam for neck and thigh support.